Dog Life Jacket Reviews
This guide is to help you to decide which dog life jacket or dog buoyancy aid to buy.
Although all dogs can instinctively swim if they have to there are 3 main types of dog swimmer:
Ones where you donít know if they can swim as they donít like water
dogs that can swim a little but are cautious or nervous
dogs that are very good swimmers
How good your dog is at swimming very much depends on their breed. Dog floatation devices are very popular and you can buy dog buoyancy aids, dog life jackets or floation collars. In fact buying a dog buoyancy aid or life jacket is very similar to buying one for yourself. There are many different brands and types of dog buoyancy aid and dog life jacket for when your dog is in and around water and you want to get the right one for your individual dog. If your dog is safe when he or she is out on the water with you then you will also feel relaxed and happy. We have compiled advice on how to buy the best floatation device for your dog and we have started with 3 reviews on dog life jackets which are influenced by pet owners personal experiences of them.
The top 3 floatation devices which we recommend for dogs are:
The Baltic Standard Buoyancy aid
The crewsaver Lifejacket
The EzyDog Floatation Device
Baltic Standard Velcro Fastening Pet Buoyancy Aid with Strap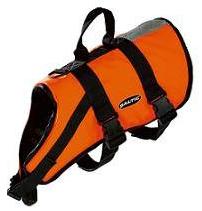 This premium dog buoyancy aid is a best seller. Extra features make it great for walking your dog near water and also using in water. This can help protect your dog from hot and cold. There is a D ring for attaching a lead. With wide webbing fixing straps & Delvin buckles which makes this is very comfortable for your dog. There is also a reflective strip for easy visibility.
There are many reasons why this is a best seller. There is a boat hook, which you can use to hook your dog out of the water with. Dogs canít climb up the sides of boats and it is near impossible to get your dog into a vessel without this hook. Itís good for strong dog swimmers that have wandered astray and also gives you peace of mind for dogs that arenít good swimmers as this will help keep them afloat. In fact this dog buoyancy aid is ideal for boating & will also help keep your dog warm in the cold weather.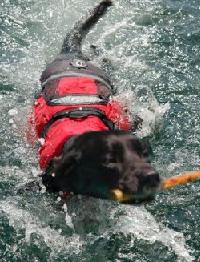 We highly recommend this for canoeing, kayaking and boating. What makes it ideal for these water sports is the lifting handle that makes it easy to lift your dog in & out of a boat. It is one of the best for giving your dog added buoyancy when swimming. This helps the dog swim for longer as he has extra buoyancy to help keep him afloat when tired.
This is made by Crewsaver which is excellent quality and a well known brand of human life jackets.
It is well designed with some fantastic features:
plastic ring for lead attachment
very attractive bright red with thick black straps
Easy to adjust & put on
Size measured from collar to base of tail
Floats with foam

EzyDog Dog Flotation Device, Medium, Yellow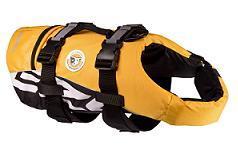 Designed with the highest performance materials this provides your dog with a snug fit and allows for fast swimming. The use of ultra buoyancy foam keeps your dog in a natural swimming position and unlike some other vests doesnít hinder your dogís natural movement.
User reviews sometimes show the fit can be slightly too big when using the size chart as some pet owners have found that a size smaller than recommended has fitted their dog better.
There are useful and clear instructions on how to put this on your dog.
Some of the Ezy D Floatation Devices best features are:
An ergonomic handle to grab
Unique ultra-buoyancy foam to keep your dog floating
Padded chest straps
Stainless steel D-ring
Super strong nylon D-ring