Yak Buoyancy Aid Reviews
This guide is to help you to decide which Yak Buoyancy Aid to buy
Yak Kallista - Best all rounder
Yak Kallista Legacy Buoyancy Aid in Black/Red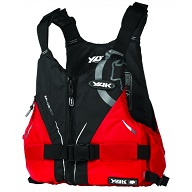 The Yak Kallista legacy buoyancy aid is the updated version of the original Yak Kallista, which proved to be the best selling buoyancy aid of all time. This multi purpose buoyancy aid now also has a really useful front pocket. This is the ultimate buoyancy aid to buy as it is the best seller from Yak, who are the industry's leading company.
Some of the key features of the Yak Kallista Legacy buoyancy aid are:
Stylish blue/black design
Durable outer cover for longevity
Front zip to make it easy to take on and off
Front pocket and small inner key pocket
Adjustable shoulder and side straps for the ultimate fit
Elasticated waist and 40mm hidden waist belt
Comes with useful attachment loops
This is an excellent kayaking equipment used by regular paddlers and canoe clubs. It does not cause obstruction whilst paddling which explains it's popularity.
Canoe clubs often use these jackets, although as stated in the section about buoyancy aids, this Yak Kallista buoyancy aid is to be used by people who can swim but not in extreme weather conditions where a higher specification buoyancy aid should be worn.
The Yak Kallista is easily adjustable for all different sizes and all find it a snug fit and perfect for paddling. This is the ultimate buoyancy aid to buy as it is the best seller from Yak, who are the industry's leading company. An absoluate bargain for Crewsavers best selling buoyancy aid!

Yak Kurve - Best White Water Buoyancy
YAK Kurve White Water Buoyancy Aid Black/RED 2332-A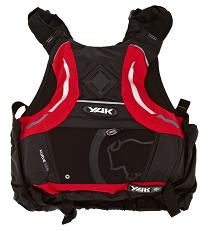 If you are a white water paddler and are looking to replace your existing buoyancy aid, the Yak Kurve buoyancy aid has the most up to date features which your old buoyancy aid may not have had. The new features include:
ISO 12402-5 approved
New easy slide low profile shoulder and waist buckles
55N of compact foam buoyancy
Multi-point adjustment with neoprene panels
Expanding low-profile pockets
The Yak Kurve is a vest style buoyancy aid which like all Yak products is well cut so that it won't restrict your movements. The tough cordura shell and mesh draining make it durable to withstand the harsh elements in white water paddling. It has proven itself which is why it is so popular amongst paddlers and reviews really well.
The foam is super soft which is what makes it so comfortable. Even this can be take out and washed easily. The stretch neoprene chest panels help to give you added protection to make this one of the best white water buoyancy aids money can buy.

Yak Blaze - Best Budget Buoyancy Aid
Yak Blaze 50N Buoyancy Aid in Red 2512 - Newer Style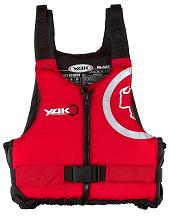 The Yak Blaze buoyancy aid is a great entry level buoyancy aid which is ideal for many different water sports. This is versatile and very easy to put on with it's simple front zip. However, it is designed similarly to many much more expensive buoyancy aids which makes it an excellent bargain. The design is simple and made with fantastic quality materials. The features are very similar to those found on more expensive models and include:
Front zip
Adjustable shoulder straps
Hidden belt
Elasticated waist band
Internal pocket
These features make it easy to adjust and fit snuggly especially with the adjustable shoulder straps which help to fit the shape of the paddler. There is a Yak size guide which details both weight and chest size.
This Yak buoyancy aid is recommended for those that enjoy recreational paddling in lakes or rivers. If you are looking for a top quality, light weight, no nonsense flotation device at a bargain price, then look no further than the Yak Blaze buoyancy aid.

Yak Xipe 60N- Best Buoyancy Aid for Touring
YAK Xipe 60N Buoyancy Aid in Red 2710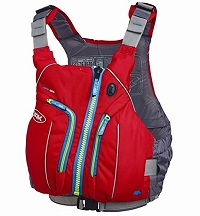 The Yak Xipe is the ultimate buoyancy aid for sea paddling and long distance touring. On long trips it is essential that you have a buoyancy aid with several large pockets for easy access storage of hydration packs. This is comfortable for those long distances and still allows free arm movement. If your buoyancy aid does not fit well or is uncomfortable, then long distance kayaking will cause a lot of discomfort.
Luckily this buoyancy aid has been especially designed by Yak for sea touring and has the following features:
Back hydration pack pocket
Hi-cut slimline design
Adjustable shoulder straps
Hidden 40mm waist belt
Hidden centre buckle
Lower adjustable buckled clinch belt to reduce jacket ride up
Attachment loops
All of these excellent features ensures that the Yak Xipe buoyancy aid stays comfortable and performs as you would want it to.
The Yak Xipe looks small and versatile with updated style of a low cut front and open arms that allow paddlers to learn forward easily. This compact design that has straps tough enough to withstand the battering of the sea is superb.
Experienced paddlers have made use of the pockets for their radios and water bladders.
If you're thinking of touring or just want a Yak buoyancy aid designed for staying comfortable over a long period of time, then the Yak Xipe buoyancy aid is the one to buy.

About the Yak brand
Yak buoyancy aids are made by Crewsaver. This company is over 50 years old is renowed in the marine sector for strong high end features to give customers the best performing products. Crewsaver originated in the south coast of the UK as experts in designing safety equipment for use in sailing. Since the company was well know in the marine community, they then expanded into other watersports, in particular kayaking and canoeing where they developed their well known and very popular Yak brand of products.